Studio 4:13 is restricting seating to no more than 8 artists in the studio at one time. Please call/text 218-308-1714 to reserve your spot or to check if space is available, before arriving.
Current Hours: Tue 12:00-5:30pm
Wed 12:00-5:30 pm
Thur 2:00-5:30
**Please call/text 218-308-1714 before arriving**
Thank you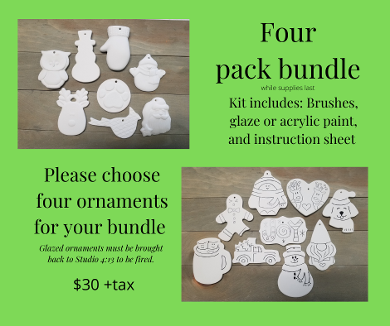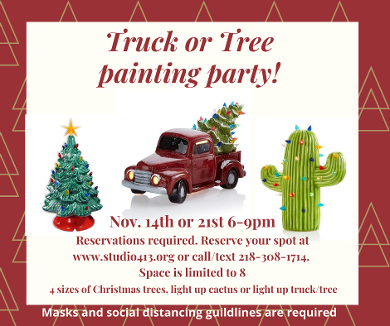 Nov. 14th class is FULL!
ONE spot left in our Nov. 21st class.
Four sizes of Christmas trees to choose from- 9"-$48
11"-$63
13"-$75 18"-$145
Truck w/tree light up-$68
all pottery pieces come with colored lights and cord. Pieces will be fired and ready 7-10 days later.
MASKS REQUIRED
Than you!