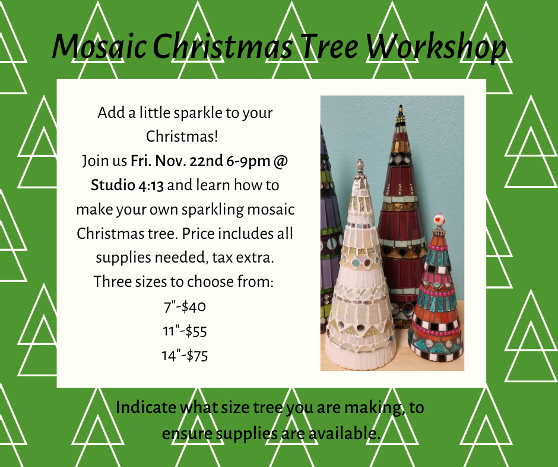 MOSAICS
Now you can join in the fun and learn the art of mosaic making. No previous experience is necessary. It is amazing that something so beautiful can be so simple to create! Studio 4:13 offers a variety of shapes, tesserae (mosaic glass & ceramic pieces) and grouts. One of the great things about mosaics is that you can take them home with you the same day. No wait to take your masterpiece home if you choose to grout at home.
Grouting your mosaic is easy, but if you need us to take care of it for you, we can do the grouting for a $10 minimum charge (additional for larger or more complex pieces). It will be ready to be picked up in 5-7 days.
*There is no studio fee for the Mosaics. Prices range from $15-$125
Need to know...
*These projects are best for ages
10 and up
*Adult/babysitter supervision for kids under age 10
*We can incorporate Mosaics into the birthday party packages. Call for additional information 218-308-1714 or email me
WALK-IN'S WELCOME!
Walk in and get started mosacking! We have many fun and unique surfaces to choose from. No appointment needed.
Larger mosaic projects, such as windows or custom work must be scheduled, to allow time to order supplies.
PHOTOMOSAICS
Photo Mosaics are a quick and easy for you to make. Our process requires no messy glue. You can go home with a nice tub of grout (with instructions) OR with the new process, the piece can be grouted right away!
Quickly and easily create beautiful heirloom quality photo mosaic works of art using your own photography, postcards, and more!
Sizes available- 4x6, 5x7 & 8x10