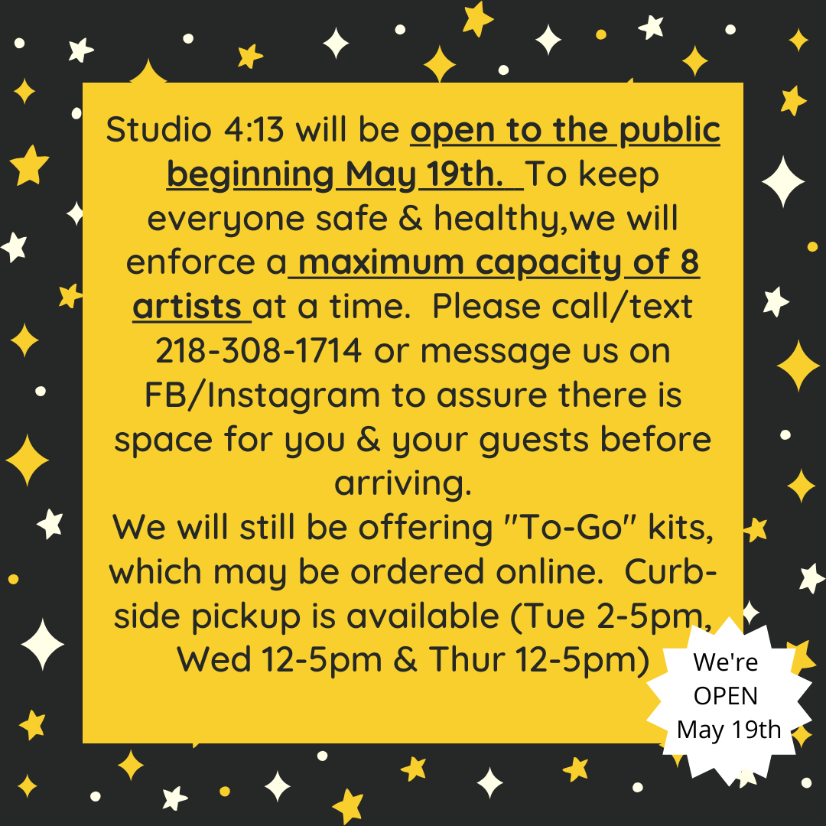 Benedictine Living Community/Assisted Living Pottery kits
So excited to be teaming up with Benedictine Living Center & Assisted Living. Purchase one of these pottery painting kits for the residents. Only $10 ea.
Kit includes, pottery piece, acrylic paint, sealer & brushes. Designate a kit for someone special, or just brighten someone's day!
Kits will be delivered to BLC later this month.
Mosaic To-Go kits!
Our Mosaic To-Go Kits are a perfect rainy day activity or boredom busters. Embark on a new art adventure in the comfort of your own home. Your kit will included your surface, pre-selected acrylic paint & tiles, glue, brushes and an instruction sheet. NO GROUTING required! No decision to make...kits come just like you see in the sample.
MYSTERY To-Go kits!
A random assortment of 4 items (ceramic & wood plaque pieces). Eight acrylic paint colors including black and white. Mod Podge to seal. A set of brushes (to keep). No need to return your piece...paint and enjoy!
Gnome & Fairy house To-Go kits!
Spruce up your garden with these cute Fairy houses or Gnomes. Once you've finished, bring back your piece to be fired. Pieces will be ready 7-10 days after they are returned.
Succulent/Cactus planters!
Give your plants a relaxing home...t
hese are the perfect size for planting your favorite succulents or other small plants.
Once you've finished, bring back your piece to be fired. Pieces will be ready 7-10 days after they are returned.
Studio Hours: T, W, Th 2:00-5:00 pm.
We are currently not open of Saturday.
Curbside pick up available.
Check out our entire selection here.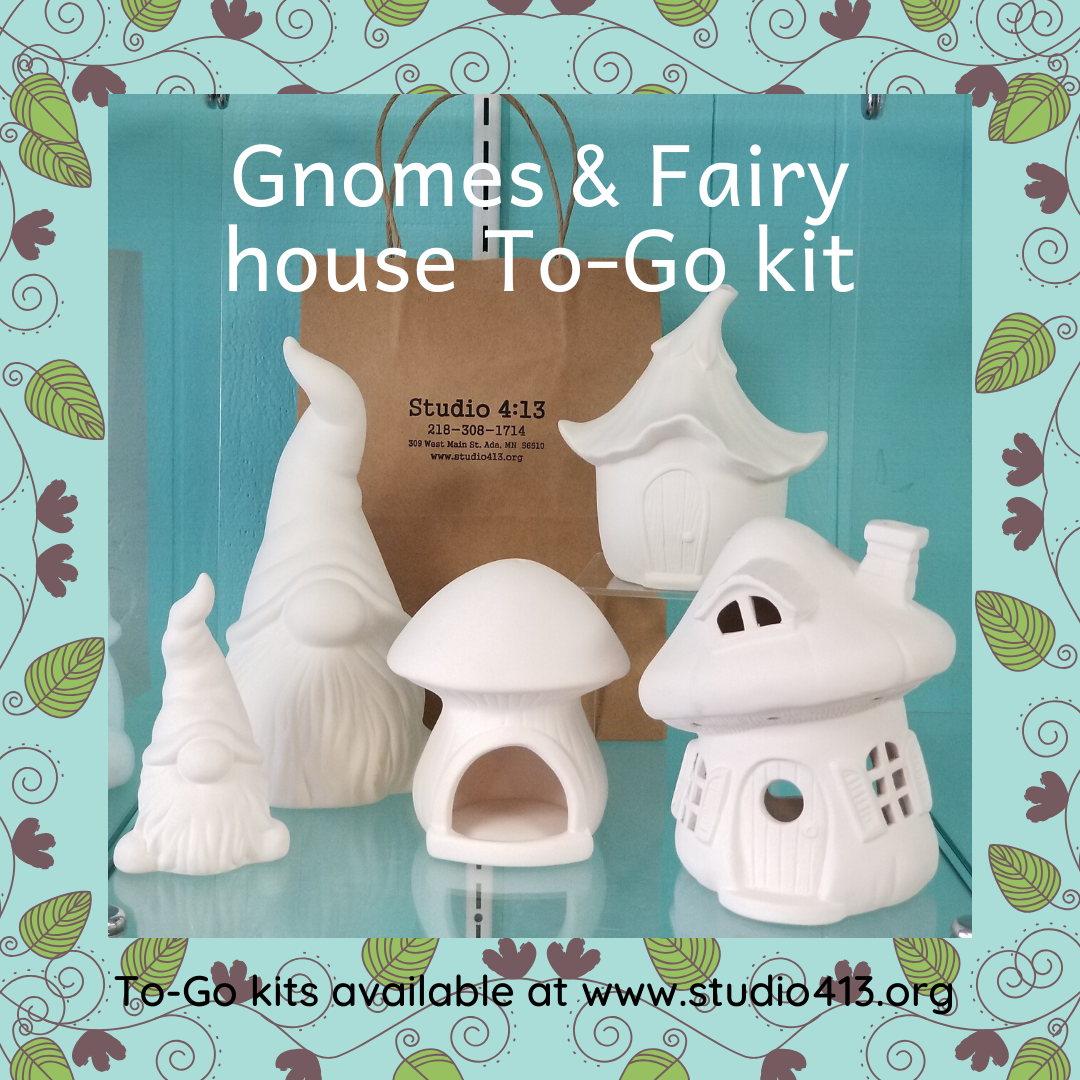 Studio 4:13 is a space for kids and grownups to explore, imagine, and create! We offer art classes to ALL age groups, young children and their grownups, school age children 5-18 years old & adults. We offer Paint your own pottery & Mosaics. No appointment needed...just walk in!
We also offer classes in painting, clay handbuilding, jewelry making, drawing & sooooo much more!
Our camps & classes focus on basic art techniques and build on the child's imagination. Students explore various art materials, learn about culture and history, while creating unique art pieces.
Studio 4:13 is also a great place for getting together with friends or family for special occasions. We offer a creative & fun place for birthday parties, group parties, bridal showers, or any other kind of get together you can think of. Click here for more information on our parties & rates.
For more information please call (218) 308-1714 or email studio413@ymail.com
Don't forget to "Like" us on Facebook or follow us
on Instagram or Twitter (studio413ada)
to stay up to date on what is going on at the studio!
I do not respond to work related emails after 7 pm. I will respond as soon as possible the following day.
"I make a point to let the human beings take precedent over the electronic devices as often as possible.,..and always for greetings & goodbyes."
Rachel Macy Stafford-"HANDS FREE MAMA".
FREE Baby Footprint tiles
Every baby is a gift. I am honored to offer a free 4x4 ceramic tile to commemorate your new little one. No appointment needed. Simply stop by during business hours. Need special arrangements? Please call 218-308-1714.
•Limited One per child.
•Limited two colors (one for feet and one for letter).
...

•Complementary lettering.
•Only footprint and lettering allowed on the free tile.
•Only valid for those 12 months and under.
•No Cash Value/ Based on Availability.

Sorry, we do not mail tiles. Must be picked up at the studio.
In Loving memory of my nephew, Benton Charles Degerstrom, our red-headed angel.
on how we can all make the world a better place.
Business Hours
Tuesdays 2:00-5:30 pm
*note: new Tue hours*
Wednesdays-12:00-5:30 pm
Thursday-12:00-5:30 pm
(We reserve the right to close 30 minutes early
if there are no artist at work)
we are currently not open on Saturdays.
Many fun classes and events
Check everything out on our
Schedule and Events page.
Ladies Night projects here
Cork & Canvas projects here
Mosaic Workshop project here